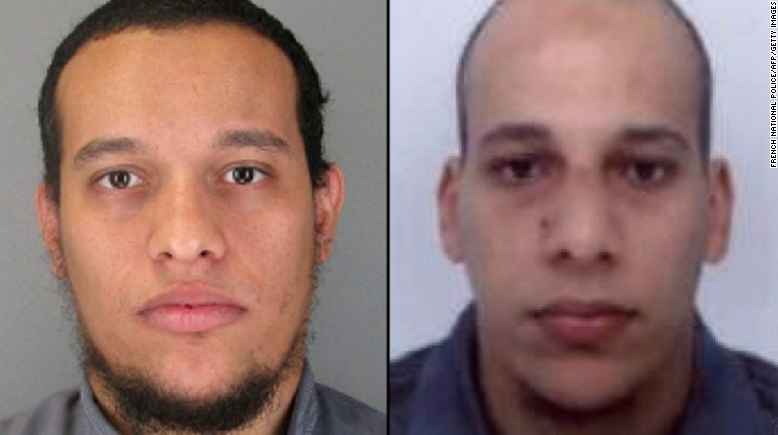 Terror Kouachi Brothers



The two brothers wanted for the shooting of 12 people at the offices of satirical weekly Charlie Hebdo were killed in a raid today by security forces on the print works where they were holed up with a hostage, a government source said.
"Several rounds of automatic gunfire rang out, accompanied by loud explosions, at the print works north of Paris where security forces had encircled the alleged killers.
Smoke came from the building in an industrial zone near the town of Dammartin-en-Goele. Earlier, at least four armed security force members were seen on its roof.
Police vans, armored cars and ambulances ringed the town of Dammartin-en-Goele, set in marsh and woodland. Helicopters hovered overhead, residents were told to stay at home and schools were evacuated near a printing works where police sources said two gunmen were holding at least one hostage.
At least two security personnel could be seen on the roof of the printworks, a low white building in an industrial estate.
Wednesday's Paris attack on the Charlie Hebdo weekly, that killed 12, has raised questions about surveillance of radicals, far-right politics, religion and censorship in a land struggling to integrate a five-million Muslim population, the EU's largest.
Charlie Hebdo had long courted controversy with satirical attacks on Islam as well as other religions and political leaders. A witness said one of the gunmen in Wednesday's attack was heard to shout "We have killed Charlie Hebdo! We have avenged the Prophet!"
Security sources said the chief suspects in the attack - two French-born brothers of Algerian origin under siege now in Dammartin - were both under surveillance and had been placed on European and US "no-fly" lists.
The Interior Ministry said security forces surrounding the print works in Dammartin were trying to make contact with the gunmen, who had earlier in the day evaded police in a high-speed car chase on a highway to Paris.
"This can take a long time, hours and sometimes days," Interior Minister spokesman Pierre-Henry Brandet said in a tweet.
Yves Albarello, local MP for the Seine-et-Marne department and member of the crisis cell put in place by authorities, told iTELE the two suspects had let it be known that they wanted to die "as martyrs".
A senior Yemeni intelligence source told reporters one of the two chief suspects was in Yemen for several months in 2011 for religious studies; but there was no confirmed information whether he was trained by Al Qaeda in the Arabian Peninsula (AQAP).
The prospect of multiple attacks is one that has troubled Western security services since Islamist militants hit a number of targets in Mumbai in 2008, killing 166 people.
Yohann Bardoux, a plumber whose office is two doors down from the printing shop where the hostage-taking was playing out stayed away from work after hearing gunfire. But he said his mother was in the building next door to the printing shop.
"Of course I'm worried about her, I hope it all comes down soon, and turns out well," Bardoux said.
"They are everywhere. It's really jumping. They've blocked the whole zone, we've got helicopters overhead, the police presence is impressive."
A spokesman for Charles-de-Gaulle airport said all its runways were open but that landings were only taking place at the two south terminals.
Both brothers are in their early 30s. The second brother, Cherif Kouachi, was jailed for 18 months for trying to travel to Iraq a decade ago to fight as part of an Islamist cell.
US government sources said both were listed in two US security databases, a highly classified database containing information on 1.2 million possible counter-terrorism suspects, called TIDE, and the much smaller "no fly" list maintained by the Terrorist Screening Center, an inter-agency unit.
Amid local media reports of isolated incidents of violence directed at Muslims in France, Hollande and his Socialist government have called on the French not to blame the Islamic faith for the Charlie Hebdo killings.
Hollande has held talks with opposition leaders and, in a rare move, invited Marine Le Pen, leader of the resurgent anti-immigrant National Front, to his Elysee Palace for discussions today.
Many European newspapers either re-published Charlie Hebdo cartoons or lampooned the killers with images of their own.
The younger Kouachi brother's jail sentence for trying to fight in Iraq a decade ago, and more recent tangles with the authorities over suspected involvement in militant plots, raised questions over whether police could have done more to watch them.
Cherif Kouachi was arrested on Jan. 25, 2005 preparing to fly to Syria en route to Iraq. He served 18 months of a three-year sentence.
"He was part of a group of young people who were a little lost, confused, not really fanatics in the proper sense of the word," lawyer Vincent Ollivier, who represented Cherif in the case, told Liberation daily.
In 2010 he was suspected of being part of a group that tried to break from prison Smain Ali Belkacem, a militant jailed for the 1995 bombings of Paris train and metro stations that killed eight people and wounded 120. The case against Cherif Kouachi was dismissed for lack of evidence."