A Nigerian Texas based woman was sentenced to 80 years Tuesday for her felony murder conviction in the death of one of four children killed in a fire at her home day care in Houston. One of the 4 toddlers happens to be my aunt's daughter, Rest in Peace Elizabeth Kajo.
Tata then 22years old, fled to Nigeria in the wake of the fire but was captured after about a month, returned to the U.S. in March 2011 and has remained jailed since. She was born in the U.S. but has Nigerian citizenship. Under Texas law, a person can be convicted of felony murder if he or she committed an underlying felony and that action led to the death.
Jessica Tata now 24, was convicted last week in connection with the death of 16-month-old Elias Castillo. Authorities say Elias was one of seven children whom Tata left unsupervised at her home while she went to a nearby Target store. Prosecutors say she left a pan of oil cooking atop a stovetop burner and that this ignited the February 2011 blaze. Three other children were seriously injured.
Along with the prison sentence, Tata was ordered to pay a $10,000 fine.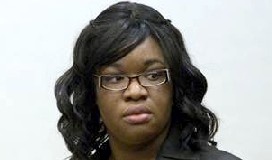 Classification:
Murderer
Characteristics:
F
ire at her home day care that killed four children
Number of victims:
4
Date of murders:
February 24, 2011
Date of arrest:
March 22, 2012
Date of birth:
May 6, 1988
Victims profile:
Elias Castillo, 18-month-old / Shomari Dickerson, 3-year-old / Elizabeth Kajoh, 20-month-old / Kendyll Stradford, 20-month-old
Method of murder:
Fire
Location:
Houston, Harris County, Texas, USA
Status:
Sentenced to 80 years in prison
She still faces three more counts of felony murder in relation to the other children who died, and three counts of abandoning a child and two counts of reckless injury to a child in relation to three who were hurt.
During the punishment phase of the trial, prosecutors argued Tata was an irresponsible day care owner who left the children she was caring for alone on multiple occasions and who ran an unclean facility. Tata's family and friends told jurors she was a good person who loved kids. They asked the jury for mercy.
Tata's attorneys argued she never intended to hurt the children, who ranged in age from 16 months to 3 years old, and that she tried to save them. But prosecutors did not need to show she intended to harm the children, only that the deaths occurred because she put them in danger by leaving them alone.
During Tata's trial, which began Oct. 24, surveillance video was presented that showed her shopping at Target just before the fire occurred. A former Target manager told jurors that Tata did not seem to be in a hurry after realizing she had left the stove top burner on while the kids were at the day care.
Neighbors testified that they heard the children crying during their unsuccessful attempts to rescue them from the blaze. Parents of the children who died or were injured told jurors they had trusted Tata, believing she was qualified.
Defense attorneys presented expert testimony to argue that faulty kitchen equipment may have sparked the fire.